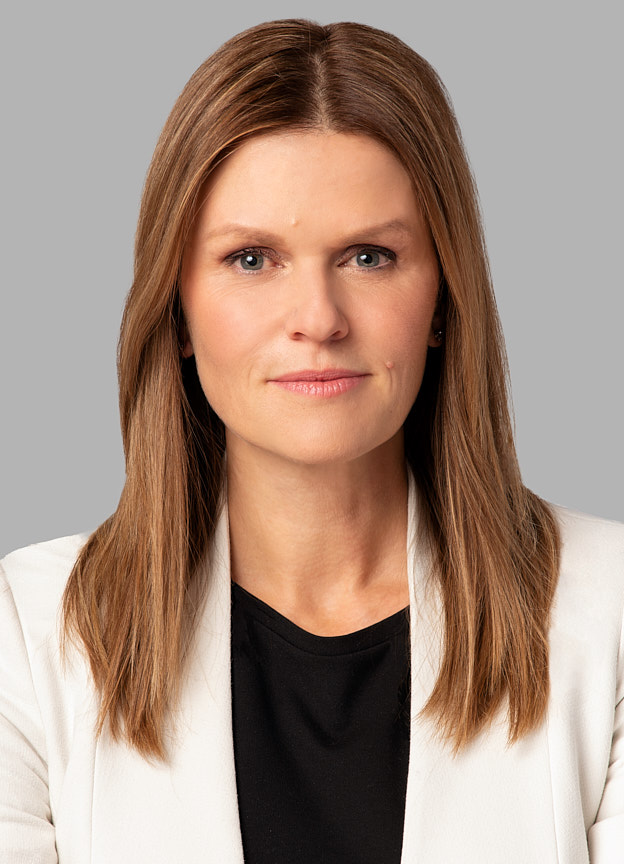 Partner, Lawyer, Member of the Executive Committee
Julie Doré
Profile
Julie Doré combines her vision, passion and determination to seize windows of opportunity, no matter how small, in order to help our clients. Since joining BCF 20 years ago, she has successfully advised hundreds of companies on mergers and acquisitions and major equity financing deals, particularly in the areas of food, retail and real estate development.
A skilled negotiator and accomplished businesswoman, she has helped retail giants in closing large-scale deals. She also regularly assists developers and financiers in their residential and commercial real estate projects, as well as in property acquisitions.
Julie is a natural leader and is a member of the firm's Executive Committee. She excels in leading the multidisciplinary legal teams she assembles to close the deals entrusted to her. As the partner in charge of recruitment at BCF, she has a remarkable talent for finding and attracting top talent from the next generation. She is also involved in the training and evaluation of the firm's lawyers.
Education
Called to the Barreau du Québec (1998)
LL.B., Université Laval (1997)
Recognition(s)
Canadian Legal Lexpert (2021-2023) - Corporate Commercial Law

Canadian Legal Lexpert : Special edition (2020) - Agribusiness and Cannabis
Canadian Legal Lexpert (2020) - Mergers and Acquisitions
Representative Work
Acted on behalf of PayFacto Payments Inc. in the equity investment of up to C$150 million led by private equity firm Flexpoint Ford with participation from BMO Capital Partners;
Acted on behalf of Roxboro BauVal Group Inc., a leader in the construction and civil engineering industry in Quebec, in its merger with Panzini Demolition Inc. and M.E. Tremblay Demolition Inc;
$700 million real estate project named Maestria led by developer Devimco in the heart of Montreal's Quartier des spectacles;
Sale of Just for Laughs Group to a consortium of investors including Bell Media, Montreal Canadiens, Evenko and ICM Partners in June 2018;
Legal advisors of Groupe Luminaires inc. as part of the sale to Sentinel Capital Partners, LLLC of the company operated by its subsidiaries Eureka Lighting Inc., Cyclone Lighting Inc., Eureka Lighting USA Inc. and Amerillum LLC in Canada and the United States, June 2016;
Acquisition of Fordia Group Inc. by Epiroc AB, a Stockholm-based enterprise;
Merger of Preco Fondations, subsidiary of Roxboro Excavation inc., and MSE Group to create PRECO-MSE;
Legal advisors of Cogir immobilier in partnership with Fonds immobilier de solidarité FTQ, within the framework of the $200,000,000 Humaniti real estate development project, of a complex located at the corner of the streets of Bleury;
Commercial agreements between Fiera FP II Capital Real Estate Investment Fund and other partners for the purpose of creating partnerships to develop real estate projects in the Montreal downtown core;
Acquisition of Distech Controls Inc. by Acuity Brands Inc. for a price of $318,000,000;
Transactions whereby Metro acquired a majority stake in Marché Adonis, a major Mediterranean food retailer in Montreal, and in its distributor, Phoenicia Products;
Commercial agreements pursuant to which Distech Controls Inc. issued shares of its capital stock to Canadian and foreign investors while certain shareholders assigned a portion of their interest;
Commercial agreements between Centria Capital Real Estate Investment Fund I, LP and Groupe Huot for the purpose of creating real estate partnerships for leasing projects in the Quebec City area.
Conferences
November 2018

Host of a panel for the UDI, "Mixed use: challenges and opportunities"

September 2018

Co-president of the full-day Strategic Planning Session on Real Estate & Urban Development (Open Forum)

March 2018

CREW Lunch Conference – Moderated a panel on the Solar Uniquartier Project

November 2016

"Ownership of Real Estate, Canadian Tax"

September 2016

"The Different Types of Development Partnerships, Agreements and Associations Available to Help you Reach your Objectives"

January 2015

"The Particularities Related to the Financing of Construction and Real Estate Development Projects in Quebec"

2013 and 2014

"Earnout Provisions in Business Purchase and Sale Agreements – Legal Considerations"

September 2012

"Corporate Consolidation: Amalgamation vs. Liquidation – Legal Aspects"
Professional Affiliation(s)
Member of the Barreau du Québec
Involvement
2018 CREW Montreal finalist in the category Excellence in Leadership;
Member of the board of directors of the Fondation Jean Béliveau since 2018;
Fundraiser for the Marie-Vincent Foundation since 2015, and a performer in the Marvin on the Rock event;
Representative of the firm in connection with the Justicia Project, an initiative designed to keep women in private practice.