Executive Summaries
Sep 10, 2020
Equity Crowdfunding in Canada: What You Need to Know about the Latest Regulatory Changes
While new financial technologies have emerged in recent years, few companies are making use of equity crowdfunding. This relatively timid success can be explained in particular by its sometimes inadequate regulatory framework.[1]
A Stringent Regulatory Framework in Canada
On the regulatory front, the situation remains complicated in Canada (unlike the United States, which adopted a single lightened regulatory framework), making it difficult for this type of financing to get off the ground. As illustrated below, the status (as of February 2016) of existing exemptions in Canada, taken from a report by the National Crowdfunding & FinTech Association of Canada, shows that regulatory requirements vary by province. The Canadian Securities Administrators' ("CSA") proposed changes to the regulatory framework for equity crowdfunding are therefore timely and streamlined.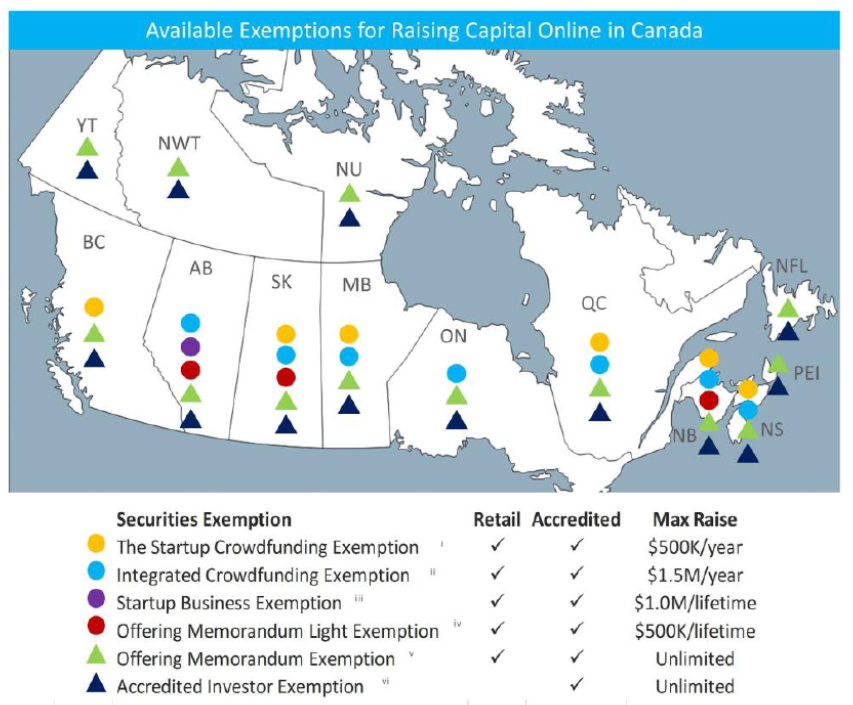 General Local Decisions by Canadian Authorities
In May 2015, through local general decisions (collectively, the "Decisions") some Canadian securities regulatory authorities, including the Autorité des marchés financiers for Quebec, implemented an exemption from the dealer registration requirement and a crowdfunding substantially harmonized exemption from the prospectus requirement for startup. These Decisions allow capital to be raised through the public, only for startups and subject to certain conditions. While the Decisions initially expired on May 13, 2020, their application was extended and they will now cease to apply 90 days following the implementation date of the proposed Regulation 45-110 respecting Start-up Crowdfunding Registration and Prospectus Exemptions (the "Proposed Regulation 45-110").
Provincial Regulation 45-108
Moreover, on January 25, 2016, some provinces, including Quebec, adopted Regulation 45-108 respecting Crowdfunding ("Regulation 45-108"), which also provides an exemption from the prospectus requirement co-existing with that implemented by the Decisions. However, unlike the prospectus exemption introduced by the Decisions, the exemption provided by Regulation 45-108 is not limited to non-reporting issuers. Both reporting issuers, including public issuers, and non-reporting issuers can benefit from this prospectus exemption. A significant difference with the Decisions under Regulation 45-108 is that investments must be made through a restricted dealer equity crowdfunding portal or a registered dealer crowdfunding portal. Since the regime established by Regulation 45-108 has never been used, the CSA is giving serious consideration to the possibility of repealing it following the adoption of Proposed Regulation 45-110, as it considers that the latter could reduce the need for market participants to avail themselves of the regime implemented by Regulation 45-108.
Proposed Regulation 45-110 by the CSA
Finally, on February 27, 2020, the CSA published Proposed Regulation 45-110 for a 90-day consultation period that ended on May 27, 2020. Consequential amendments will also be proposed to Regulation 45-102 respecting Resale of Securities and Regulation 13-101 respecting the System for Electronic Document Analysis and Retrieval (SEDAR). Proposed Regulation 45-110, like the Decisions, will provide an exemption from the prospectus requirement and an exemption from the dealer registration requirement, and will apply only to non-reporting issuers in the startup stage. Proposed Regulation 45-110's objectives are intended to harmonize the regulatory framework for equity crowdfunding in Canada and to improve its effectiveness as a capital-raising tool for businesses and early stage issuers, while continuing to provide adequate investor protection.
In order to better identify and differentiate the main features of the regimes put in place under the Decisions, Regulation 45-108 and Proposed Regulation 45-110, we have prepared the following comparative table: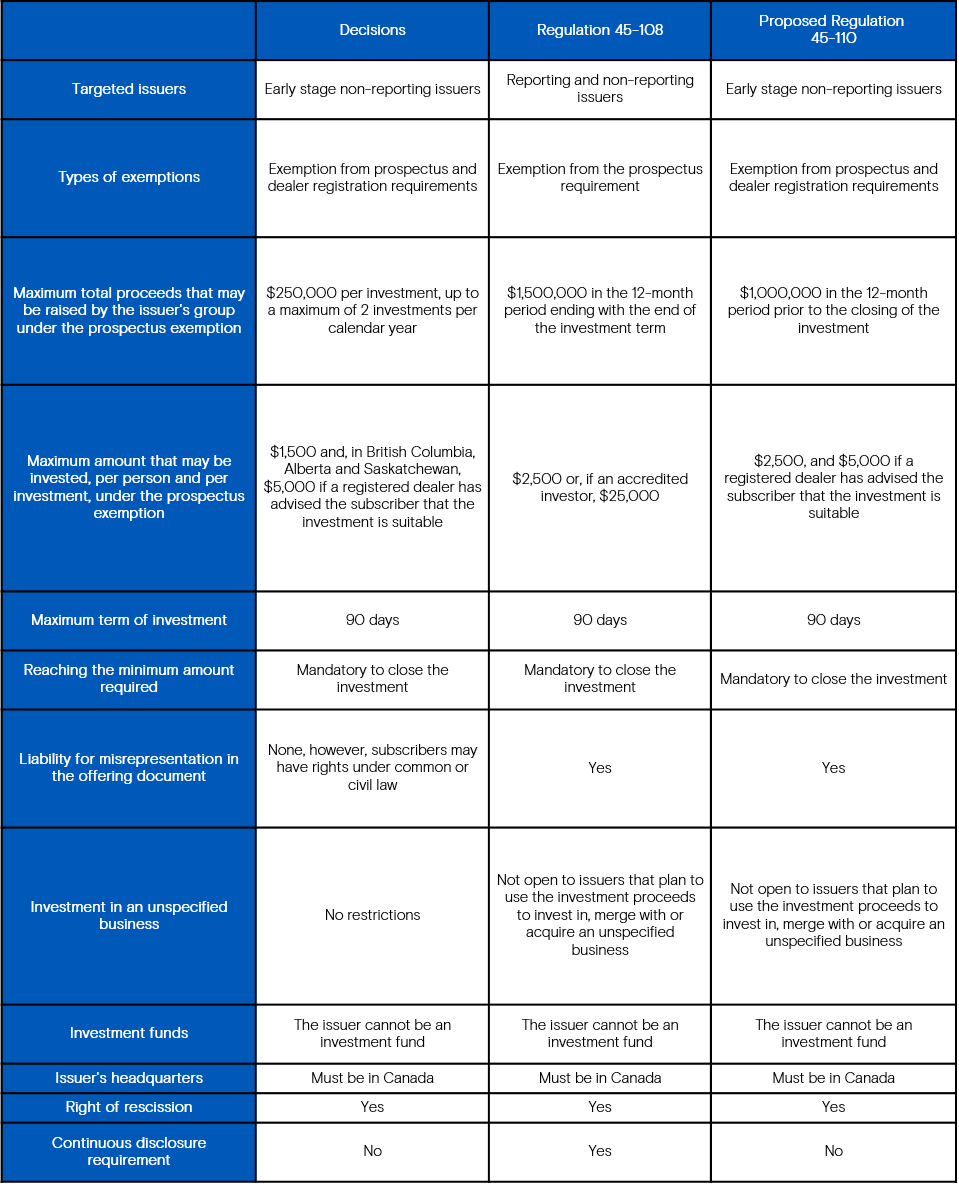 Several regimes currently apply in the province of Quebec, with a common philosophy : to provide an exemption for the issuer. The Decisions, Regulation 45-108 and Proposed Regulation 45-110 offer regimes that are similar in some respects and different in others. It is important to understand the fundamental differences between them in order to determine precisely which regime may be appropriate in each case.
Of course, since Proposed Regulation 45-110 has not been officially enacted, and taking into account the comments that may have been provided by the various market participants during the consultation period, the information indicated in this article with respect to Proposed Regulation 45-110 is subject to change in the official and final version of said regulation.
Should you have any questions regarding this article or equity crowdfunding in general, please do not hesitate to contact our securities team.
[1] This article is written jointly with Ivan Tchotourian, associate professor at the Faculty of Law of Université Laval and co-director of the Centre d'études en droit économique (CÉDÉ).
Stay on the lookout!
Subscribe to our communications and benefit from our market knowledge to identify new business opportunities, learn about innovative best practices and receive the latest developments. Discover our exclusive thought leadership and events.
Subscribe