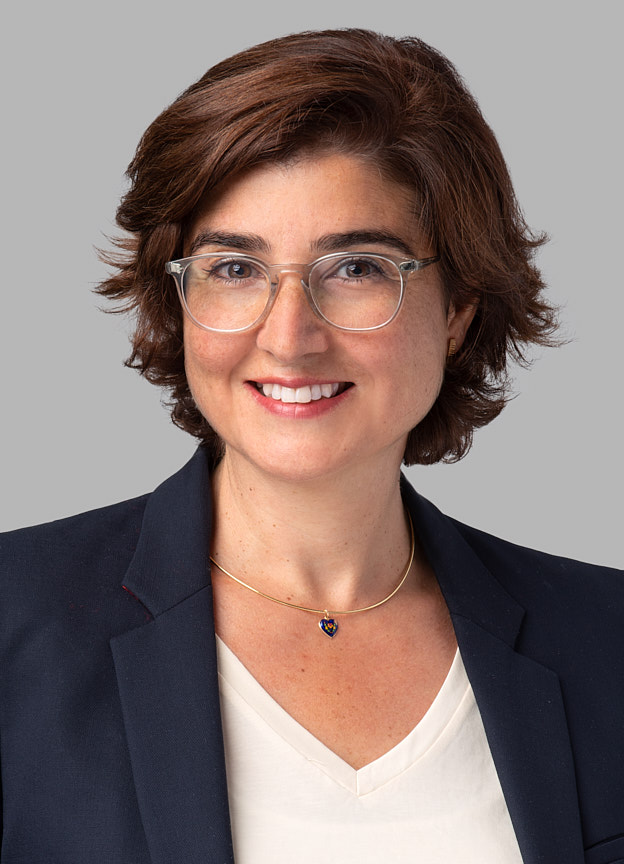 Partner, Patent Agent
Tuba Yamaç
Profile
A registered patent agent in Canada, the United Kingdom, and Europe, Tuba Yamaç manages the intellectual property strategies of technology clients ranging from start-ups to larger corporations and research institutions. Tuba's industry experience and international outlook make her a highly valued advisor to many businesses.
Tuba holds a Ph. D. in biomedical materials and a M.Sc in intellectual property management, both from the University of London. She is recognized for her technical expertise in medical technologies including biomaterials, medical devices and connected health technologies, as well as cleantech. Tuba advises clients in relation to building intellectual property portfolios including international filing and procurement strategies, IP partnering support, preparing for investment, commercial transaction support, patentability landscaping, freedom to operate, and due diligence particularly for investors. Before joining BCF, she was intellectual property director of a medical device company in Montréal building their IP portfolio and supporting the business through a number of strategic business liaisons.
Tuba is trilingual, and regularly represents the Québec life sciences business ecosystem in the United Kingdom, the United States, France, and Scandinavia. She also teaches patent law, and is an invited speaker at the annual LifeSciences UK Patent attorney conference (CIPA), the McGill/IPIC patent course in Montreal, and has contributed to a book chapter in "Life Sciences Law in Canada", Carswell.
Education
Canadian Patent Agent Registration (2008)
European Patent Attorney Registration, (2006)
United Kingdom Patent Agent Registration, (2004)
PhD Biomedical Materials, University of London, UK (3M Industrial Case Award)
MSc Management of Intellectual Property, University of London, UK (Herschel-Smith Award, Distinction)
BSc (HONS) Materials Science, Manchester University, UK
Recognition(s)
IAM Patent 1000 (2020-2022) - Recommended Individual
Publications
Medical Devices information booklet

Institute of Materials Information service, London, UK

"Life Sciences Law in Canada"

book on patent law relating to life sciences, Carswell (2018)
Representative Work
Preparing, filing and prosecuting patent applications for clients in the sectors of health technologies (especially medical devices, digital health, diagnostic devices), AI-based health technologies and clean tech;
Devising IP strategies for small and medium sized organizations, particularly in Health Technologies (medical devices, digital health);
IP support in licensing negotiations and agreements;
IP due diligence for transactions (both buyer and seller perspective);
IP due diligence for investor analysis;
IP strategy and preparation for IPO;
Patentability search assessment and opinions;
IP strategy for start-ups;
European patent procurement advice;
Competitor analysis and patent mapping.
Conferences
2018

"Intellectual Property for Medical Devices and Digihealth", Innovacorp IP Workshop

2018

"Canadian Life Sciences Patent Practice: A Goose-Eye View", Annual Life Sciences Conference of the Chartered institute of Patent Attorneys (UK)

2018

"Introduction to IP", Lecture Series at the McGill University Health Center

2018

Chair of "Transatlantic Pitch & Fly"

2016

"Growing Abroad: Tax and IP Considerations", British-Quebec Business Coalition

2016

"Medical Devices IP: Lesions Learned, Ablated and Avoided", Medical Devices Centre for Commercialization
Professional Affiliation(s)
Intellectual Property Institute of Canada (Patent Agent)
Canadian Intellectual Property Institute (Patent Agent)
Chartered Institute of Patent Attorneys, UK (Patent Agent)
Director (2015) and Assistant Director (2013-2014) – IPIC/McGill Understanding Patents Course
Lecturer on European patent practice (2013-present) - IPIC/McGill Understanding Patents Course
Workshop tutor on International patent strategy (2008-present) - IPIC/McGill Understanding Patents Course
British Quebec Business Coalition
MEDTEQ