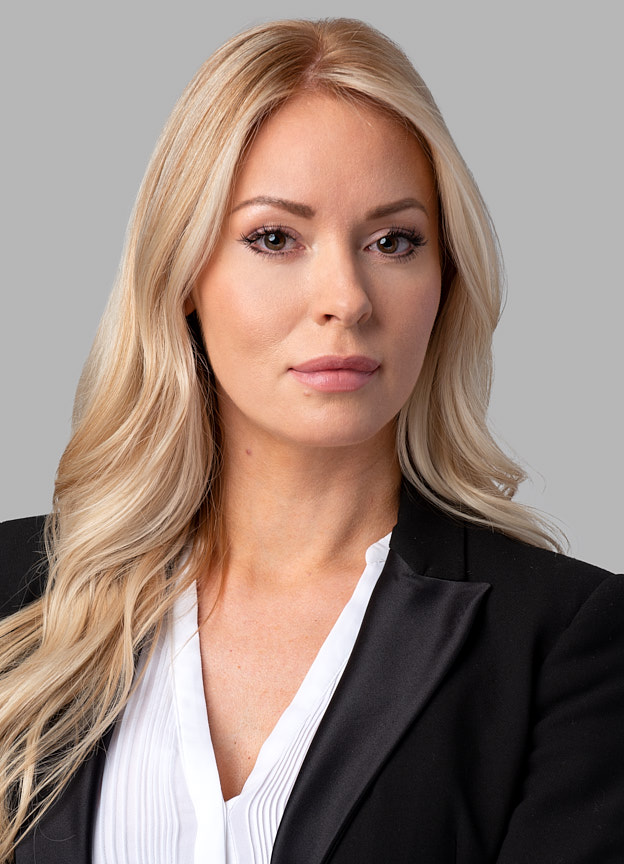 Partner, Lawyer
Sabrina Brosseau-Malo
Profile
Sabrina Brosseau-Malo is a partner in the business, commercial and corporate group of our Montreal office. With 10 years of experience, she is known for her efficiency and pragmatic approach. Sabrina's practice focuses on representing privately held companies, private equity firms and other investors in domestic and cross-border transactions, including mergers and acquisitions and financing transactions, across a broad range of industries. She also regularly represents important players as part of auctions and bid processes.
Education
Called to the Barreau du Québec (2010)
LL. B., Université du Québec à Montréal (2009)
Representative Work
Acted for Baylis Medical Company Inc. and its shareholders, in connection with the sale of the company's cardiology activities to Boston Scientific Corporation for USD$1.75 billion and carve-out of its DMS business;
Acted for DMDConnects Services Inc., in the sale of its direct and indirect interests in, and assets used in connection with the operation of, DMD Marketing Corp., a healthcare identity provider dedicated to connecting marketers to key healthcare audiences, to IQVIA Inc. (NYSE:IQVIA);
Acted for Clareo Inc., the largest domestic network of dental clinics in Québec, in its financial partnership with Walter Capital Partners;
Represented Clean Biologics SAS, a French biopharmaceutical services company, on its recent acquisition of Biodextris Inc, a Canadian service provider to clients in the vaccine and biopharmaceutical industries;
Acted as counsel for GefCo, a Canadian private equity firm based in Laval, in its acquisition with La Corporation Financière Champlain Québec of Naya Waters, a Quebec-based natural spring water company;
Represented CTI Life Sciences Fund II, L.P. as lead investor in the US$6M Series A-3 preferred share seed financing in Phenomic AI Inc., a Toronto-based company which leverages a computer vision and high content screening platform to develop therapeutic antibodies against cancer and fibrosis;
Acted for Hypertec Group in the sale of its Hypertec DCS division operating its hyperscale data center and its assets used in the operation of the data center and its colocation business to Vantage Data Centers, a leading global provider of hyperscale data centers (2020);
Acted for Aerial Technologies Inc. in its financing round in convertible notes in series 3 preferred shares for a total round of $US 4,225,050 with various investors including Fonds Innovexport, S.E.C., Middlefield Ventures, Inc., Kibo Ventures Innvierte Open Future FCR-PYME, Telefonica Open Future S.L.U., Dragon Capital and others (2020);
Acted as counsel for RPM International Inc. (NYSE:RPM) in its acquisition of Logiball Inc., a leading manufacturer of trenchless pipe rehabilitation equipment (2019);
Acted as counsel for Prevtec Microbia Inc. in its sale to Elanco Canada (2019);
Acted for Matricis Informatique Inc. in the context of its sale to Alithya Group Inc. (TSX : ALYA) (NASDAQ : ALYA) (2019);
Acted for Humania Assurance Inc. in its purchase of all of Tour+Med Assistance Inc. and Multi+Med Inc.'s assets (2019);
Acted for MetroBec Inc. in the context of its sale to Triple M Metal L.P. (2019);
Acted for Nudura Corporation, a leading manufacturer/distributor of insulated Concrete Forms, on its sale to RPM International Inc. (2018);
Acted as counsel for Telecon Inc. as part of the purchase of Cam-Tel Line Locating Inc. (2018);
Acted as counsel for Telecon Inc. as part of the purchase of Unified Systems Group Inc. (2018).
Professional Affiliation(s)
Member of the Barreau du Québec
Member of the Young Bar of Montreal
Member of the Canadian Bar
Member of Réseau Capital