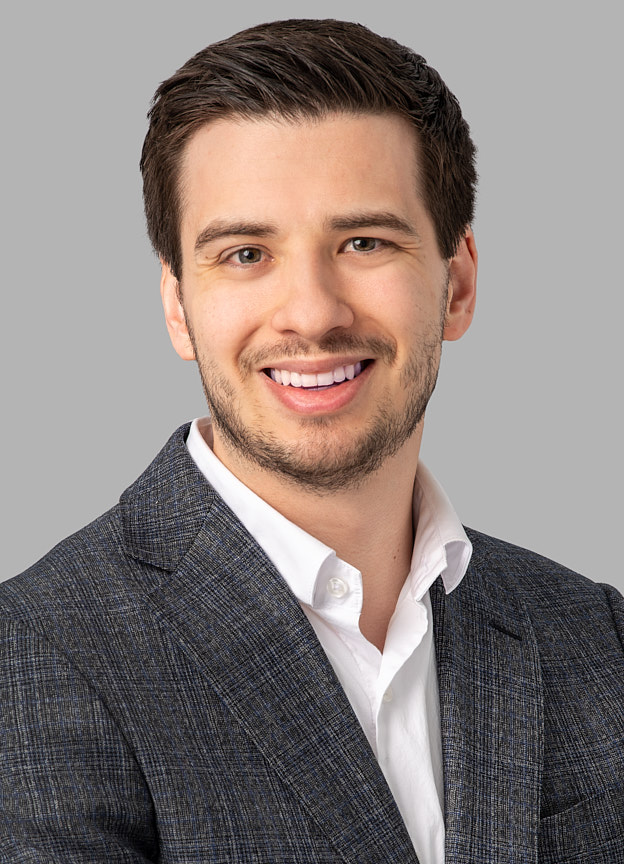 Lawyer
Maxime Savard
Profile
Maxime Savard is a member of the Civil and Commercial Litigation Group in our Québec City office and focuses on construction law and civil liability matters. For the past few years, he has acquired an expertise in non-competition clauses and has been working with our labour and employment law team by providing guidance to companies operating in the high-tech industry. Maxime also handles salary and grievance arbitration cases for the National Hockey League.
Maxime stands out by his collaborative and creative approach. His wide range of litigation skills enables him to act for clients with complex cases and to plead on their behalf before various authorities.
Maxime greatly contributes to the visibility of his profession by writing articles that are then featured by well-respected forums. He contributes to the implementation of firm projects such as being an ambassador for the next generation within our business development committee. He has also completed a course in Common Law at the Western University in London, Ontario.
Education
LL.M., Université Laval (in progress)
Barreau du Québec (2015)
LL.B., Université Laval (2013)
Publications
"Employers, Are You Prepared to Get Your Team Back in the Office?"

June 2021

"How Telecommuting Transforms the Application Of Non-Competition Clauses"

bcf.ca, February 2021

"COVID-19 and Construction: Impacts on your Legal Hypothecs, RBQ Licences and Surety Bonds"

In collaboration with Nicolas Gosselin and Sophie Boulanger, bcf.ca, April 2020

"Lemieux c. Aon Parizeau Inc.: La clause de non-sollicitation et la théorie de la perte de chance en droit québécois"

Proforma - Chronique SOQUIJ, Jeune Barreau de Québec (October 2018)
Representative Work
Acted on behalf of a group of architects and the Fonds d'assurance de la responsabilité professionnelle de l'Ordre des architectes du Québec in a multimillion-dollar lawsuit against general contractors and professionals responsible for the design and supervision of work on several buildings in Northern Québec;
Acted on behalf of an established construction contractor in a claim for additional costs of several million dollars incurred during the execution of a marine construction project due to soil conditions that were different from those announced in the tender documents;
Acted as legal counsel in a real estate litigation file referring to a retrocession clause included in a deed of sale. The judgment rendered by the Superior Court is currently under appeal;
Counsel, defend and assert the rights of the Provisional Administrator of Abritat's guarantee plans and the APCHQ Inc.'s new home guarantee plan;
Worked in the arbitration of the National Hockey League (NHL) players' salaries. We represented approximately 17 NHL teams;
Representation and legal advice in several cases related to the application of non-competition and non-solicitation clauses and the obligation of loyalty, particularly for employers in the high-tech industry;
Drafted several legal opinions related to the validity of restrictive covenants.
Professional Affiliation(s)
Member of the Quebec Young Bar Association
Member of the Barreau de Québec
Involvement
Governor next generation at the Fondation du Barreau du Québec (2021)
Chairman of the board of directors at the Fondation Collège de Champigny (2015-2018)