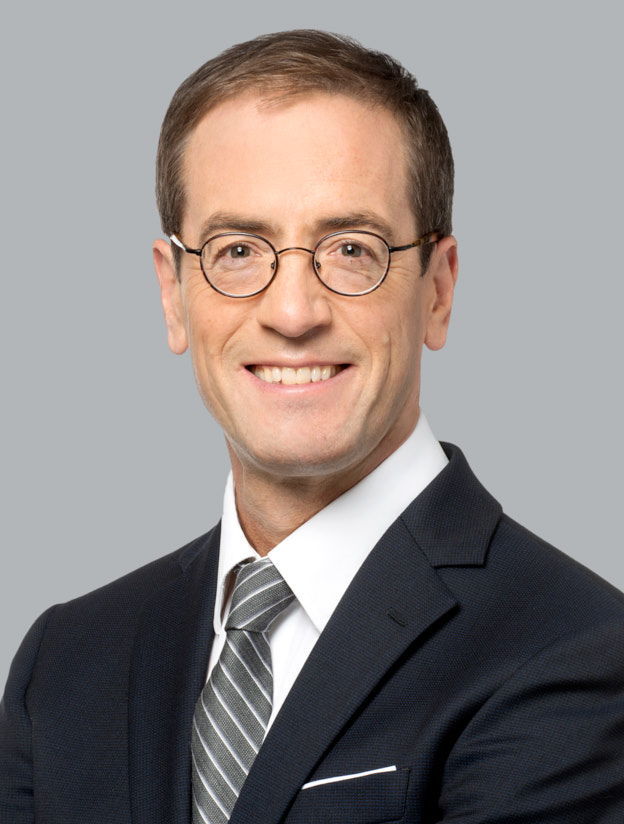 Partner, Lawyer, Head of the Montreal Litigation Group
Eric Ouimet
Profile
Eric Ouimet is head of BCF's Litigation group and a founding partner of the firm.
Eric represents clients from a variety of industries in commercial disputes before provincial courts, federal courts, and arbitration tribunals. He has a particular expertise in the intellectual property and technological aspects of construction and manufacturing processes.. His understanding of our clients and their market reality make him an invaluable counsel in matters pertaining to manufacturers' and designers' liability, intellectual property infringements and the protection of confidential information. Eric is a well respected commercial litigator whose expertise in protective injunctions such as Anton Pillar Orders enables us to act rapidly to defend our client's interests.
Eric is a fellow of the Chartered Institute of Arbitrators (FCIArb) and a mediator in civil and commercial law matters, duly accredited by the Barreau du Québec (Quebec Bar). He also holds the CIPP/E certification with respect to Europe's General Data Protection Regulation (GDPR).
Education
Certified Information Privacy Professional/Europe (2018)
Certified Mediator (civil and commercial), Barreau du Québec, 2014
Fellow Chartered Institute of Arbitrators (1999)
Called to the Barreau du Québec (1987)
LL.B. Université de Montréal (1985)
Recognition(s)
Best Lawyers (2021-2022) - Alternative Dispute Resolution
Publications
"Recent Developments in Canadian Arbitration Law,"

(with Babak Barin and Vikki Andrighetti), Global Arbitration Review,
The Arbitration Review of the Americas, 2008

"Enforcement of Arbitral Awards in Canada,"

(with Frédéric Côté), Lexpert Guide to the Leading US/Canada Cross-Border
Litigation Lawyers in Canada, 2008

"Plans d'architectes et droits d'auteur,"

(with Pascal Fréchette), Canadian Bar Association, Construction Law and Intellectual Property sectors, April 10, 2003
Representative Work
Securing and executing an Anton Piller Order following an attempt by former employees and an actual employee to clone a microelectronics design and manufacturing company;
Safeguard order with respect to trademarks and copyright and confirmation by the court that in relation to these matters, the violation of rights is constant in response to a lack of urgency argument;
Litigation and legal opinions pertaining to patents in various fields, including sports facilities (artificial turf and sports surfaces), manufacturing processes of new generation lithiumion batteries, design and manufacturing of dental prostheses, movable scaffolding systems, tracks and suspension systems for lightweight vehicles;Construction Law: claims related to the construction of a dyking system at James Bay, the internal systems with respect to the construction of museums, sports facilities, resulting from the failure of a retaining wall during the construction of a skyscraper, petrochemical units, damages resulting from a fire in a world-class laboratory, applicability of requirements related to fire protection in research facilities and implementation of corrective measures further to an agreement with surveillance authorities;
Manufacturing and responsibility of the manufacturer: industrial heat exchangers in the petrochemical industry, electrical performance of an alternator integrated into generators used in an AWACS system, industrial printing machines for wrapping systems, recall of heating units;
Real Estate: commercial leases, contestation of a non-use servitude, contestation of an expropriation in the context of road repairs;
Litigation between shareholders: in the fields of microelectronics, real estate and aviation.
Professional Affiliation(s)
Barreau du Québec
Canadian Bar Association
Board of Trade of Metropolitan Montreal
Institut canadien de la propriété intellectuelle du Canada
International Law Association
Fellow of the Chartered Institute of Arbitrators
CIPP/E
Involvement
Eric sat for the two previous terms on BCF's board of directors. He is currently co-leader of BCF's Dispute Resolution practice group as well as the Construction, Infrastructure and Manufacturing practice group;
He currently sits on the executive committee for North America of the Chartered Institute of Arbitrators and participates as a tutor during practical courses on international commercial arbitration with the Chartered Institute of Arbitrators;
He is one of the directors of the Canadian Arbitration Congress;
He was the director and treasurer of the 2006 Congress organizing committee of the International Council on Commercial Arbitration (ICCA);
As part of his community involvement, he has sat on the Executive Committee of Pointe-Claire Yacht Club and of Lakeshore Ski Club. He is also an amateur soccer coach.