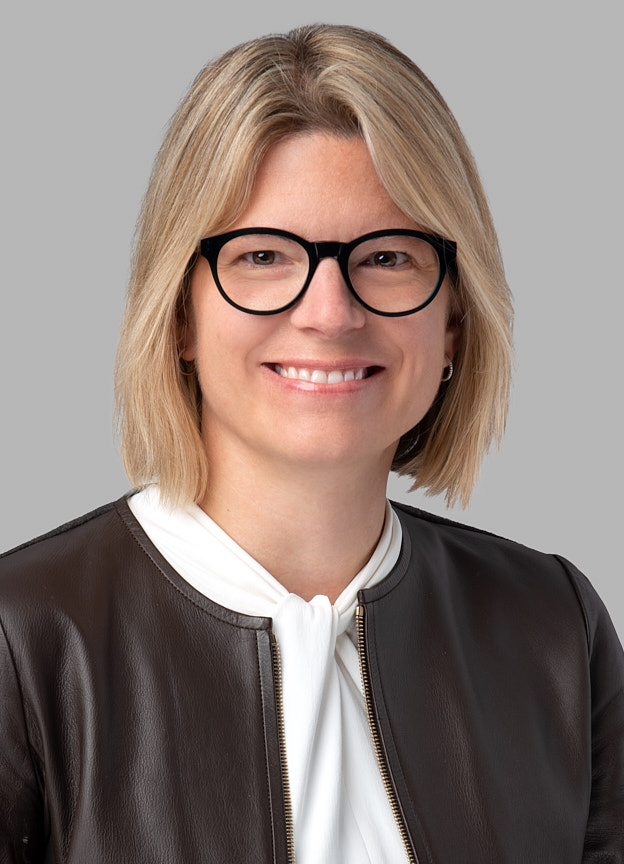 Partner, Patent Agent, Member of the Executive Committee
Andréanne Auger
Profile
Andréanne Auger is a patent agent who, for the past fifteen years, has been helping clients manage their intellectual property assets in order to achieve their business objectives. Her client base includes many established companies as well as start-ups seeking to protect and market their inventions in Canada, the United States, and internationally.
Andréanne principally advises clients in the biotechnology and medical devices areas that are active in the fields of clean tech, molecular and cellular biology, chemistry, and biochemistry. She provides them with a solid, coherent intellectual property program that brings value to their business objectives.
Andréanne holds a PhD in cellular and molecular biology and is particularly interested in the ecosystem of life sciences in Quebec.
Andréanne previously occupied a seat on BCF's Board of Directors and Succession Plan Committee. She is now a member of the firm's Executive Committee.
Education
Université de Montréal, Civil Law Degree (certificate), Law, 2010-2013
Registered Patent Agent, United States, 2008
Registered Patent Agent, Canada, 2008
Université Laval, Ph. D., Cellular and Molecular Biology, (Dean`s Honor List), 2002-2005
Dalhousie University, M. Sc., Biochemistry and Molecular Biology, 1998-2000
McGill University, B. Sc. Biochemistry, (Dean`s Honor List), 1995-1998
Recognition(s)
IAM Patent 1000 (2020-2023) - Recommended Individual
LMG Rising Stars Rankings (2018) - Recognized as Rising Star
LMG Rising Stars Rankings (2015) - Recognized as Rising Star
Publications
"U.S. Patent Office delays may put your patience to the test,"

IP Connections, March/April 2013

"The yeast ArfGAP Age1 is regulated by phospholipase D for post-Golgi vesicular transport"

(co-authors: J.J. Benjamin, P.P. Poon, S.M. Lewis, T.A. Wong, R.A. Singer and G.C. Johnston), J Biol Chem, December 6, 2010

"NuA4-dependent acetylation of nucleosomal histones H4 and H2A directly stimulates incorporation of H2A.Z by the SWR1 complex"

(co-authors: M. Altaf, J. Monnet-Saksouk, J. Brodeur, S. Piquet, M. Cramet, N. Bouchard, N. Lacoste, R.T. Utley, L. Gaudreau and J. Côté), J Biol Chem, May 21, 2010;285(21):15966-77

"Connection between histone H2A variants and chromatin remodeling complexes"

(co-authors: M. Altaf, M. Covic, and J. Côté), Biochem Cell Biol., February 2009; 87(1):35-50

"Intellectual Property Rights: a Key Asset for Early Stage Biotechnology Companies"

The Lawyers Weekly Magazine, February 2008

"Eaf1 is the platform for NuA4 molecular assembly that evolutionarily links chromatin acetylation to ATP-dependent exchange of histone H2A variants"

(co-authors: L. Galarneau, M. Altaf, A. Nourani, Y. Doyon, R.T. Utley, D. Cronier, S. Allard, and J. Côté), Mol Cell Biol., April 2008; 28(7):2257-70
Representative Work
Acted on behalf of Theodorus, a venture capital fund dedicated to early stage investments in the life sciences, in its $2M pre-seed financing for the creation of Neomabs Biotechnologies, a company dedicated to the development of novel immunotherapies for the treatment of cancer;
Prepared, filed and prosecuted patent applications for clients in the sectors of biotechnologies, medical devices, health technologies (e.g. related to artificial intelligence), especially medical devices, digital health, diagnostic devices), and organic and inorganic chemistry;
Implemented strategies for the protection and commercialization of intellectual property assets;
Provided advice and support in licensing negotiations and other agreements between the parties;
Asset evaluation (acted for buyer) and asset preparation (acted for seller) of intellectual property in diligent reviews;
Intellectual property asset analysis in investments and financing;
Established the IP asset protection planning for startups;
Patentability analysis;
Freedom to operate analysis;
Devised the strategy and prepared IP assets for IPO;
Managed intellectual property in companies ensuring the coordination between the various groups such as R&D, marketing and regulatory affairs.
Professional Affiliation(s)
Intellectual Property Institute of Canada (IPIC) (Fellow)
United States Patent & Trademark Office (Patent Agent)
Canadian Intellectual Property Office (Patent Agent)
Involvement
IPIC / McGill University Summer Courses in Intellectual Property, Leader of a patent filing strategy workshop, 2014-2015
IPIC / McGill University Summer Courses in Intellectual Property, Leader of a patent filing strategy workshop, 2013-2014