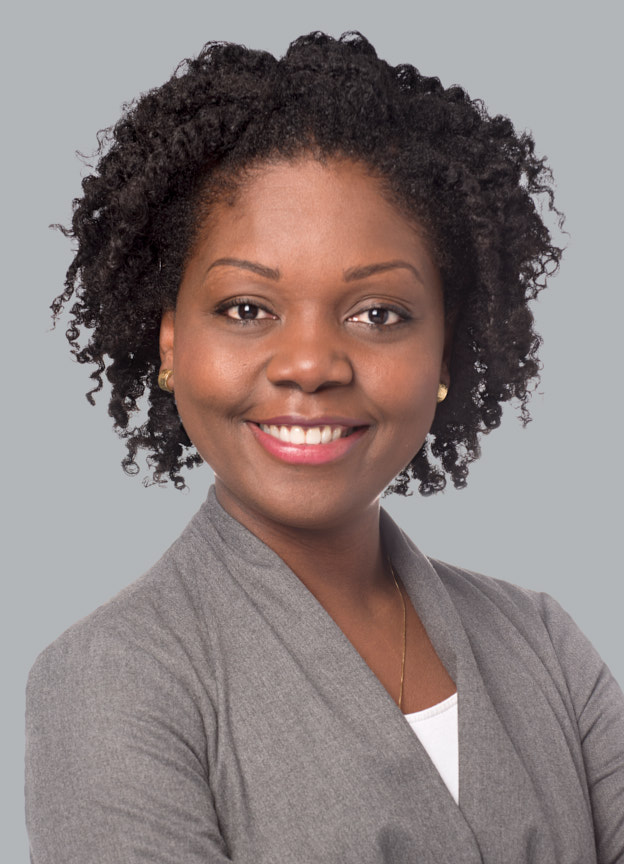 Business Outreach Senior Advisor and BCF Imagine Ambassador
Déborah Cherenfant
Profile
Déborah Cherenfant is passionate about entrepreneurship. She joined the BCF team in 2018 to fully manage BCF Imagine, the firm's exclusive program aimed at powering tech start-ups.
With degrees in international economics and entrepreneurship, Déborah has had a chance to put her strategic skills to good use over the past ten years, namely by providing various businesses with financing and start-up advice and developing entrepreneurship programs. Among other things, she has implemented concrete initiatives such as the online media platform, Mots d'Elles, which is the first platform of its kind in to support women in business in Quebec. She also launched Atelier Coloré, a fashion and design creation studio, Marché Coloré, a pop-up store uniting creators and artisans who are passionate about prints, and co-founded BiAS – a cultural and artistic think tank that supports the talents of culturally diverse individuals.
Since her arrival in Quebec in 2005, Déborah has volunteered for a number of organizations, namely as President of Compagnie F, entrepreneurship pour femmes. She is also an administrator for the KANPE Foundation, which is active in Haiti, as well as CLIPP, an organization that supports social innovation. In 2018, she was appointed to the Quebec Council on Status of Women by the Members of Cabinet.
As a TEDx Fellow, Déborah is also an outstanding lecturer, trainer, and presenter. Her expertise is often sought after by the business community to talk about entrepreneurship, female leadership, and diversity in business.
In addition to being selected as a Delegate of Canada at the G20 Young Entrepreneurs' Alliance Summit in 2015, Déborah has been recognized for her work and leadership on numerous occasions. Namely, her blog Mots d'Elles was named best business blog in Canada (2013). She also received the Prix Femme de mérite in the entrepreneurship category awarded by Montreal's YWCA (2016) and was named Personality of the week by LaPresse. In 2019, she was one of 12 laureates selected to illustrate Black History Month following their contribution to our society's advancement.
Déborah is a member of BCF'S Parity and Inclusion Committee.
Education
NPO Governance, Collège des administrateurs de sociétés, 2019
Défi 100 jours L'Effet A, 2018
Trilingual BBA in entrepreneurship, HEC Montréal 2009
Certificate in International Economics, UQAM 2006
Recognition(s)
Laureate selected to illustrate Black History Month (2019)
Finalist, La Bosse des affaires (2017) - La Presse
Femme de mérite award in the Entrepreneurship category (2016) - YWCA Montreal
Personality of the week (2016) -

La Presse
Prix de la relève journalistique (2014) - Lys de la Diversité. Média Mosaïque
Best blog in the Canada: social media & business category (2013) - Made in Blog Awards
Prix A+ (2012) - Humani Brunch, AIHC
Conferences
March 2019

Round table about women's entrepreneurship alongside Louise Roy, Nadine Girault, and Danièle Henkel, Observatoire de la Francophonie économique de l'Université de Montréal

2019

Panelist at the Journée Entrepreneuriat au féminin, TELUQ

March 2019

Les Nouveaux Modèles, speaking tour organized by the artist Marieme in an effort to meet with today's Quebec youth

March 2019

100% FÉMININ Panel, Forum Jeunesse Afro-Québécois

March 2019

Deciding what to talk about, Global Diversity CFP Day

January 2019

Panel about women's entrepreneurship alongside the Honourable Maryam Monsef, Minister of Women and Gender Equality and the Honourable Mary Ng, Minister of Small Business and Export Promotion in Canada

December 2018

Panel on women in leadership, Desjardins & Effet A

November 2018

Conference on women in leadership, Syndicat des professionnelles et professionnels du gouvernement du Québec

November 2018

Panel titled, Femmes, start-up et numérique at Entretiens Jacques-Cartier in Lyon, France

September 2018

Panel about Entrepreneurship & Diversity, Queer Tech MTL

September 2018

Conference on personal branding, Young Women's Leadership Network

August 2018

Round table at the Institut du Nouveau Monde summer school
Involvement
Member of the Conseil du statut de la femme du Québec, 2018
Member of the Jury, Entrepreneurship category, Prix Femmes d'affaires du Québec, 2018
Inclusion mentor with Montreal's office for the integration of new immigrants (BINAM), 2018
Member of the board, CLIPP, a social innovation organization, 2018
Member of the Groupe des Trente, Concertation Montréal, 2017
Futurpreneur mentor for women entrepreneurs, 2017-2019
Co-representative, My bag is YOURS!, YWCA Montreal, 2017
Member of the board at KANPE Foundation, active in Haiti, 2017
President of the Board for Compagnie F, entrepreneurship pour femmes, 2016
Co-director of the JCCM Young Entrepreneurs Network, 2016
Delegate at the G20 for young entrepreneurs in 2015
Member of the Board for Ile sans fil, to ensure free access to the Internet, 2013
Member of the Board for the Jeune chambre de commerce haïtienne (Young Haitian Chamber of Commerce), 2011-2013